Hydrogeology
---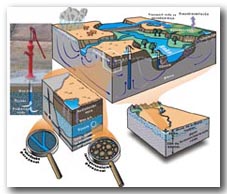 Hydrogeology (hydros-water; geos-earth; logos- science) is the science about underground waters (mineral waters). This science observes underground waters forming, configuration, existence, spread, movement and accentuation, regime and reserves, underground waters effect on geological environment, physical properties, chemical composition, radioactivity, microbiology composition etc; usage possibility and conditions of their protection.

With their share in commonly water cycle on the Earth, underground waters, along with a surface and atmospheric waters, determinates water balance on the Earth, and represents basic source of the rivers maintenance.

During the cycle in the Earth crust, underground waters participate in geological process. From one side underground waters dissolve rocks and minerals and take away in the seas and oceans or the other water basins.

In the human life, practical application of underground water is very big. Low-mineralized waters are using for the water supply, irrigation and in alimentary industry. Mineral waters, depends from the chemical composition and temperature are using for the cure, recreation, toplification of objects, derivation of electrical power or some of industrial raw.
---