Disposition and volume
---
In different forms, the overall volume of water is about 1,4 billion km3 and it covers about 70 % of the Earth surface. Disposition of water content on the Earth is as follows:
Location

Volume

(106 km3)

% of overall participation

Oceans

1338.0

96.5

Glaciers and snows

24.1

1.74

Underground waters

23.4

1.7

Overhead ice

0.30

0.022

Lakes

0.091

0.007

Sault lakes

0.085

0.006

Morass

0.011

0.008

Atmosphere

0.013

0.001

Average in sluice

0.002

0.0002

Water in biomass

0.001

0.0001


DISPOSITION OF WATER VOLUME

From all water on Earth, over 97 % is sault water, until 2,80 % is fresh water.

Ocean waters, which dominate on Earth surface, make our planet unique in solar system. Oceans and seas cover the 2/3 of Earth surface. The water volume of oceans and seas is so large, that if the Earth transform into smooth sphere without topography it will be completly cover with layer of sault water with depth of 2 500 m.


FRESH WATER RESOURCE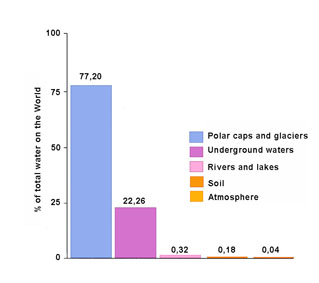 About 1/10 of the Earth continental area is covered with ice mass known as glaciers, which comprehend more than 75 % of fresh water. In the last few years, glaciers have become the significant centre of exploration. Reasons for this are global heating and glaciers solutions which could produce sizeable growth of the water level of the World Sea.

Almost 75% of fresh water in the world is held on polar caps and glaciers. Permanent volume is made of underground waters, with a small part which is made of surface water, water in soil or water vapour in atmosphere. Fresh water is mostly unavailable for the usage. The world water resources are under the bigger pressure, since the request for water increases.

Throughout the history, the reason for a large number of conflicts in the world was water deficiency. The possibility for new disagreements grows with the population increase on the Earth. In 2003,which was the International year of fresh water, the UN predicted in their report, that the average water storage, in the next 20 years would decrease for 1/3 per inhabitant. Unless we lay out something til 2050, seven billion people could face water lack.

A static water resource conservation will be more important, but the larger challenge will be an effort to presrent store dividing equally.

WATER POORNESS IN WORLD

Throughout the all human history, water had a double role: first, it was a liquid necessary for life, and second, used in removal of waste water. Without the adequate water treatment, these two parts could have caused a great conflict and become very dangerous. In developed countries, pollution reached the critical level during the first half of the 20th century, but nowadays controls are more strict. In the countries in develpoment, poor water quality is the main sanitary problem. The growth of population at a global level and expansion of industrialization mean that the water pollution stays the acute problem in many parts of the world. For example, in Africa even 50% of population uses water of poor quality.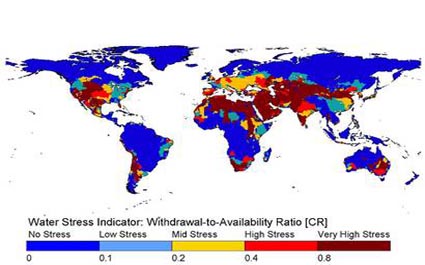 Source: WaterGAP 2.0 - 1999


"Already, more than 1/2 of the big world rivers have been used too much, polluted and degraded, with a large decrease of water quality. In this way, these waters directly endanger the ecosystem and people's health. Water is necessary for irrigation, drinking and industrial needs", stated The World Water Committee for 21st century

"Every eight seconds, somewhere in the world a child dies of a disease which arises from water abridgment and sanitary services", says The World Health Organization, 2000
---